Redmond, Washington and Washington, D.C., February 26, 2006 -- Microsoft Corporation, makers of the game console Xbox 360, announced today the popular home entertainment device will be sold bundled with a share of a Republican United States congressman or senator as part of a special spring "consumer confidence" marketing initiative.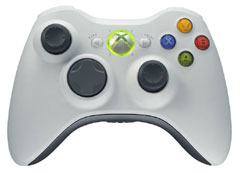 The standard Xbox 360 handset can be used to direct Republican lawmakers' legislative agendas
A spokesman for the company said the precise percentage of lawmaker included in each bundled share will depend on the total number of consoles sold and the total number of congressmen willing to trade influence for remuneration.
"The shares should be pretty high," said Matthew Lesko, press spokesman for Microsoft. "Based on past history, we expect over 90% of Republican senators and congressmen to participate in the Xbox 360 sales drive."
According to Mr. Lesko, American consumers who acquire a Microsoft Xbox 360 game console between March 1 and April 30, 2006, will each receive a genuine certificate entitling them to an unspecified share of a specific lawmaker. The share will be accompanied by login information to a special section of the house.gov or senate.gov websites, depending on whether one receives a share of a member of congress or a senator. When the promotion is concluded, shares of each congressman and senator will be divided equally by the total number of consoles with which they have been bundled, and apportioned accordingly to Xbox 360 owners. Owners can then log in to find out how large a percentage of influence they have acquired, and submit instructions to the lawmaker directly.
"It's an idiot-proof interface," said Mr. Lesko. "We learned through the Jack Abramoff and Tom DeLay scandals that when dealing with influence peddlers and go-betweens, there's always a very real danger that the money will never reach its final destination or necessarily be used for the purpose it was intended. The Xbox 360 bundled package removes that layer of uncertainty. Consumers who purchase the Xbox 360 can log in personally and issue clear, specific instructions directly to their congressman or senator without the stumbling block of a potentially unscrupulous middleman."
Mr. Lesko said Microsoft expects each Xbox 360 bundled lawmaker share to equate to "roughly 0.5 to 1 percent of the total influence of any particular lawmaker. That should be enough to help push along run-of-the-mill, non-controversial legislation such as voting for an 'Appreciation Day' for a favorite insect or bird. For thornier issues, we've added a special 'Governmental Groupware' interface whereby large teams of Xbox 360 owners can go online to pool their resources, as it were, and obtain complete or near-complete control of an individual congressman or senator. Our interface even allows consumers to rule on matters such as tie choice and hairpiece style, along with actual decisions concerning important government legislation."
"We like to think of the service as 'direct democracy'," Mr. Lesko added, "although perhaps 'democracy' isn't exactly the right word."
Mr. Lesko said current rules in the House of Representatives and the Senate actually prohibit the sale of influence by congressmen or senators in return for direct or indirect remuneration, but he does not expect that to be a hindrance.
"A rule is only a rule if it's enforced, and based on what we've seen so far with this congress, I think that's an extremely remote possibility," Mr. Lesko said.
By Ion Zwitter, Avant News Editor